History of the Sacred Heart Network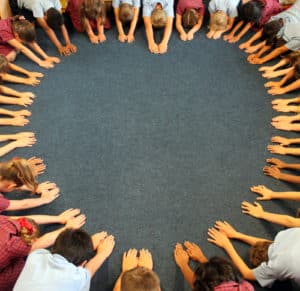 In 1789 a revolution in France began and lasted for 10 years. Many schools and convents across France were closed and most children did not have access to an education. During this time a young woman was growing up in Joigny, France, named Madeleine Sophie Barat. Born in 1779, she was a clever, studious girl taught by her brother. From an early age she devoted herself to serving Jesus.
In 1800, Madeleine Sophie started a religious order of the Society of the Sacred Heart in Paris. They were devoted to the Sacred Heart of Jesus and the education of young women. The Society opened their first school in Amiens, northern France, to paying families and used part of the income to educate the poorer girls within the town.
In 1802, Madeleine Sophie became Mother Superior of the Society of the Sacred Heart and set out to expand the society, first throughout France and Europe, and later to America and beyond. Schools for girls were opened wherever the Society established a convent, using the money from these to open 'poor' schools for local children.
The Society came to England in 1842, they settled in Roehampton, now Greater London, and founded a school. For 45 guineas a year the girls were housed, cared for and taught based on the teachings of Madeleine Sophie and keeping Jesus at the heart. In 1915 the Society was gifted Beechwood House in Tunbridge Wells, Kent, where they opened a new school on February 2nd with 7 girls. Today there is a global network of over 150 schools and convents in 41 countries throughout 6 continents.
The Sacred Heart Network
The mission of the Sacred Heart Schools was influenced by the insights and vision of St Madeleine Sophie Barat and the congregation she created. The combined faith, interaction and reflection shared among our present school communities, management, staff and pupils shape the mission of our schools for the 21st century.
Through our Sacred Heart philosophy of education, of educating the whole person as a member of society, confident of personal worth and actively living out Christ's call to know and share his love, we must ensure that our pupils grow in self-knowledge, compassion, energy, purpose and conviction.
The values which motivated the Society have now been distilled into the goals. The goals express succinctly the key priorities for schools whose name calls them to be the compassionate heart of Christ in the world today.
All five goals are integral to everyday life in our schools. As a network we have chosen to highlight one of the goals each year to keep their importance to the fore and refresh approaches to their implementation.
Our collaboration and implementation of the Goals enables us to recognise the gifts we receive from belonging to the world wide Sacred Heart community.
The Goals of the Sacred Heart Network
The schools in the Sacred Heart Network in England are committed to living out these goals:
Goal 1: A personal and active faith in God.
Goal 2: A deep respect for intellectual values.
Goal 3: A social awareness which impels to action.
Goal 4: The building of community as a Christian value.
Goal 5: Personal growth in an atmosphere of wise freedom.
Goal 1:  ACTIVE FAITH
Rooted in the love of Jesus Christ, our schools promote a personal relationship with God and foster the spiritual life of its members. They seek to create an atmosphere where the attitudes of the open Heart of Jesus are reflected in all: attitudes of respect, compassion, forgiveness and generosity. The development of Faith is at the centre of our life as Sacred Heart schools and its presence should be visible in the daily interaction between all in the community.
The ways we do this:
Through providing for the whole community a planned programme of prayer and worship, creating and encouraging an environment conducive to reflection where all feel welcome, valued and able to participate.
Goal 2: VALUING INTELLECT
Our schools foster in each person a love of learning. The education provided is creative, rigorous, challenging and promotes critical thinking. All members of the community are given opportunities to progress, to flourish and to develop their gifts and talents.
The ways we do this:
Through providing such a curriculum and assessment programme delivered by highly trained staff, we celebrate the achievements and gifts of the whole school community. Opportunities are also provided to develop skills and confidence outside of the curriculum, through enrichment activities.
Goal 3: SOCIAL AWARENESS
At the heart of our charism, bringing all the Goals together, we prioritise Social Awareness that impels to action. This gives our whole school community the tools, knowledge, values and opportunities to learn how to address injustice, conflict resolution and environmental issues, thus becoming agents of change.
The ways we do this:
The curriculum, prayer life, assemblies and enrichment activities raise students' and staff awareness of the needs of the world, local, national and global, especially of the most vulnerable. Activities encourage all to put themselves in the place of others. Opportunities are provided for direct service at different levels from fundraising to volunteering, community service and involvement in debate, campaigning and advocacy.
Goal 4: BUILDING COMMUNITY
Building a sense of community is essential for society and is a priority for schools which are rooted in and living out Gospel values. At the heart of life in a Sacred Heart School are activities which promote this sense of community. Our heritage and the schools network bring an added dimension to our experience of identity and community. The attitudes, skills and the relationships developed in school raise awareness for each one of a shared world where partnership and responsibility are vital.
The ways we do this:
Programmes, structures in schools and outreach activities provide opportunities for students and staff to participate, work together and feel a sense of identity. Some examples of these are pastoral groups, houses, teams, charitable activities, performances, clubs, buddy systems, celebrating our Sacred Heart story, collaboration in the network and engaging in exchanges, visits and electronic sharing between schools nationally and internationally. All these activities can bring a warmth and sense of fun to life in school.
Goal 5: PERSONAL DEVELOPMENT
The Goal of Personal Growth affirms the uniqueness and worth of each individual member of the school community. It aims to provide opportunities for self-development, personal formation and self-knowledge as well as to encourage the sharing of gifts and talents for the benefit of the community and society as a whole.
The ways we do this:
Formal and informal systems recognise achievement and encourage progress in all whether this is in the curriculum, enrichment activities, training and assessment, when there is success and when there are difficulties. A wide range of opportunities allow students to find and develop skills, particularly resilience, persistence and strength of character. These can include sports, performances, school outings, leadership roles, competitions, goal setting.
Beechwood Sacred Heart School
At Beechwood we are very lucky to have a dedicated Chapel. There is a separate Blessed Sacrament Chapel for private prayer and the main Chapel is in constant use for prayer and worship throughout the week.
We have a Lay Chaplain who helps to ensure that the Spiritual life of the school underpins everything we do. In the Denominational Inspection in January 2020 'Collective Worship was judged to be outstanding' and pupils are given a 'wide variety of prayer and liturgical experiences that they engage and actively participate in.' She holds regular prayer groups and 'Choc and Chat' sessions, where pupils can drop in to share a drink and chat about issues concerning them. She also helps each Year group to prepare a Liturgy on a theme of their choosing, and is instrumental in the preparation of all the school Masses throughout the year.
We are a Catholic School but, warmly welcome everyone of any faith or of none. No attempt is made to indoctrinate and everyone is valued for themselves.
We benefit from close links with the local Parish Priest of St. Augustine and Fr. Peter Stodart is the lead school Chaplain. We mark all the major feasts in the Christian calendar by sharing in the celebration of Mass.
Fr. Peter is available for the Sacrament of reconciliation at available times for those who request it.