Under 18s Rugby Tour – March 2018
Rugby Tour – under 18s
22nd – 26th March 2018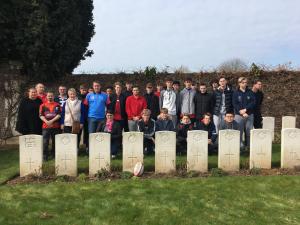 On Thursday 22nd March Beechwood U18 rugby team departed for France on their second ever rugby tour. This year our numbers have increased and we had the privilege of taking 19 of our boys on the trip. Day one was mainly spent travelling to our hotel in Peronne, but the evening was spent playing some rather competitive laser tag locally.
Friday
We travelled to Reims in the morning to Sacre Coeur school, who we played last year. Unfortunately the format was not what we were expecting and instead of playing 12-a-side we were met with 7-a-side matches. We played three games in total and all of the games were hard fought. However, Sacre Coeur were clearly a well drilled 7's side and they pushed the boundaries in terms of fair play! The Beechwood boys fought hard and kept their composure, but the result did not go our way. Charlie Butcher was able to score a repeat try of last year, through the same phase of play in the same part of the pitch. The day ended with a fabulous eat all you can Chinese buffet on route back to the hotel.
Saturday
We had a very early start to drive to Compiegne where we caught a train into Paris where we made our way to the Eiffel Tower. It was a beautiful sunny day and we were treated to fantastic views from the top. I was very proud of many of the students (and staff) who overcame their fear of heights to make it to the very top. Following our climb we had time to grab some lunch before we headed to Stade Francais to watch the most fantastic game between Stade Francais and Toulouse. It was an early start and late night but worth it with a lay in on Sunday.
Sunday
After a lazy morning we headed to Chauny for a memorial service to commemorate Basil Ash, a Roslyn Park player who died in WW1. After an emotional start we were back at Chauny Rugby Club for our last match of the tour. A full 15-a-side game with a local society referee in charge! Beechwood started slowly, but showed tremendous grit and determination throughout the game. At half time we were 10 points down. The second half started really well and Beechwood scored first, however some injuries and fatigue were kicking in by this stage and in the end we drew 12-12. The result is a great testament to the effort and hard work the boys have put in throughout the last 18 months to build their team. We finished Sunday with an awards ceremony and cake for Danny's birthday back at the hotel before getting ready to depart the next day.
Monday
We were able to deliver 19 tired but happy boys back to their parents on Monday afternoon! Mr Golby, Mr Hussain and myself thank them all for being a great team and making it such an enjoyable trip. I also thank Mr Golby and Mr Hussain for all their help and company on the trip.
I am ridiculously proud of them all and a special mention to Alex and Podge who have led the team this year and were instrumental in setting it up. They and all the Year 13 boys will be sorely missed next year and I wish them every success beyond Beechwood.
I look forward to continuing to develop the team next season!