Senior School Sports Day
Sports Day -2017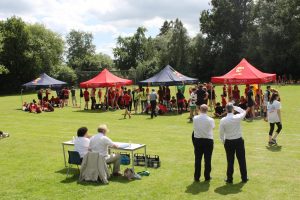 On Tuesday Senior School took part in their annual sports day. Field events were in the morning long jump, high jump, shot, discus and javelin. The whole school came out in the afternoon and enjoyed the track events in glorious sunshine. Full use was made of our new Beechwood Gazebos thanks to the Parents' Association. The afternoon was kicked off with an exciting Sixth Form Relay and they ended the day with 100m girl and boy races. We witnessed some very close races and new records were broken in the Boys U13 and U15 800m, Girls, U15 800m, U13 400m, and U15 200m races. Records were also broken in the U13 boys, U15 boys and U15 girls House relays.
The atmosphere was great on the track and the sportsmanship was clearly evident. Congratulations to Assisi for winning the event.
Congratulations to our Victrix and Victor winners in Year 7, 8 and 9 who have been competing as individuals in all the different athletics events this term. In Year 7 this was Eva and Luca, In Year 8 Abi and Callum and in Year 9 Hannah and Harry.
Well done to all those who participated and it was great to include the Sixth Form for the first time.